Download Pixelmon Mod for Minecraft PE: catch Pokemon all over the Minecraft world, collect them and arrange Pokemon fights.

The Pixelmon Mod for MCPE
Pokemon is very popular among their fans. And it is not surprising that these unusual creatures have found their place in Minecraft PE. Pixelmon is a rather interesting and unusual addition to the world-famous Pokemon in Minecraft. This modification is a great way out for players who are bored with ordinary survival.
First launch
As soon as a player starts the game with this mod, he chooses a Pokemon, and then the adventure begins. In Minecraft PE a starter set of three Pokemon is offered: Bulbasaur, Squirtle, and Charmander.
Different types of Pokemon live all over the Minecraft world, so Steve needs to explore the territory. To become a Pokemon trainer, he needs to purchase a certain number of Poke balls, with their help he can find Pokemon in different locations.
Hunting
To catch a cartoon character in Minecraft PE, the player needs to throw some Poke Balls at the Pokemon. It works the same way as a snowball. If the throw is successful, the Pokemon appears  on the screen at the right side with others.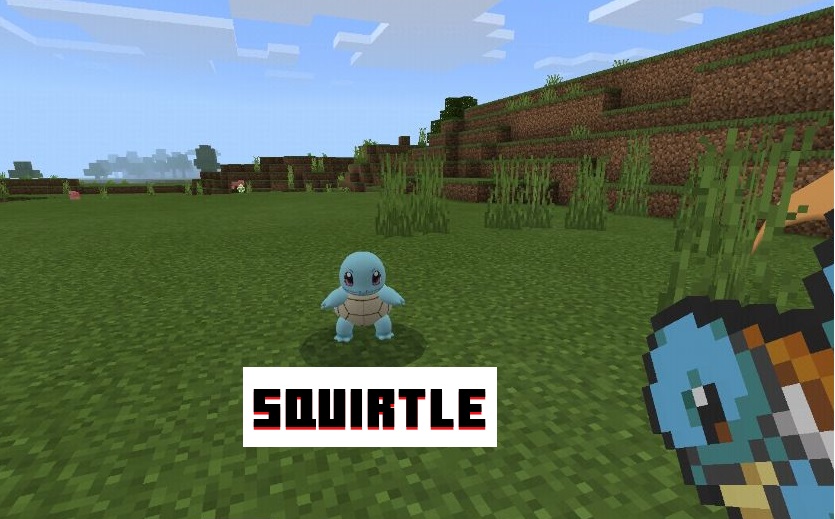 Pixelmon mod has three types of balls. For example, if the hero has a high level, the Ultra Ball or Master Ball will be required to catch him. The Pokemon challenge in Minecraft is carried out by holding the ball for a long time.
Duel
All captured Pokemon in Minecraft PE can be trained, and then a player can arrange unusual duels to identify the strongest Pokemon from his collection. To start the match, a user needs to press the 'P' button on the lower right screen.
When the panel opens, he chooses the character that is going to attack and then clicks on the Pokemon under the attack. If everything is correct, a menu of Pixelmon mod will appear with four options – attacks, opening the backpack, changing the hero, and avoiding a fight.
Download Pixelmon Mod for Minecraft PE
| Name | Versions | File |
| --- | --- | --- |
| The Pixelmon Mod | 1.16.0 –1.19.30 | Download |
These addons are even better: