Download best Mods for Minecraft PE 1.19: add popular characters to your game!
Best Mods for Minecraft 1.19
There are many mods for Minecraft PE 1.19 fans, and the developers try to create the most famous heroes and plots in the game space. Some of the add-ons let players meet new mobs, others help to get additional weapons and armor.
Huggy Wuggy
The monster from the toy factory is well known by Minecraft 1.19 players and looks very scary. At last, Steve can meet the toy on the game territory.
The mod developer created a mob very similar to the creature from the original story.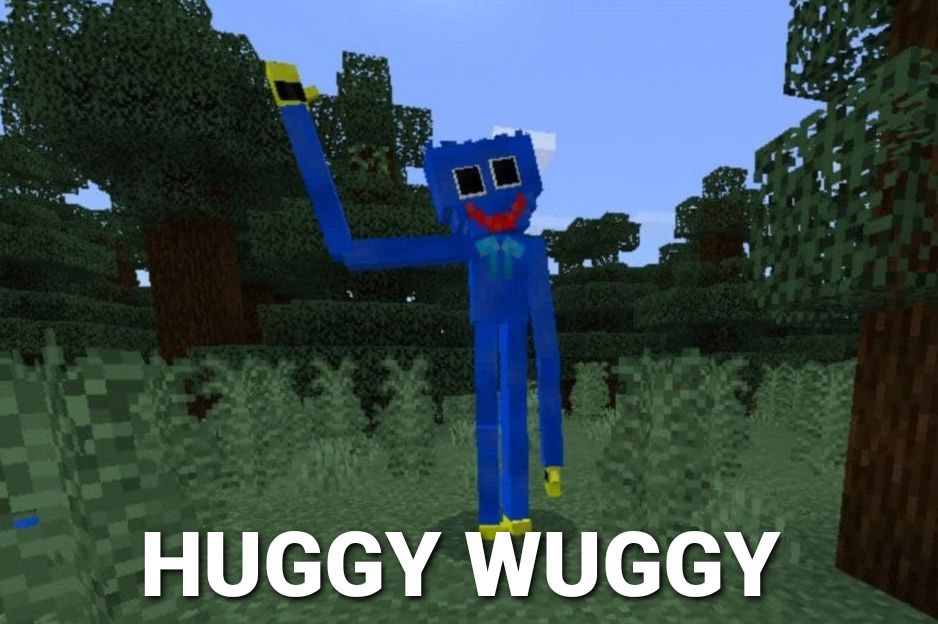 A big blue toy attacks everything alive in Minecraft PE 1.19. Huggy Wuggy moves very fast and can fight from a long distance. Players should better arm themselves and put on armor.
A monster statue will also appear in the game world. You can put it in any place and scare your friends.
Squid Game
This mod for Minecraft 1.19 will add all the heroes of the Squid Game plot: guards, a giant doll, and surviving players. Fans of the story will recognize the first game of the series.
The developer also added a cursed tree, which players can put anywhere in the game space. To create two teams of mobs, you need to find summoning eggs in the inventory.
All modification elements in Minecraft PE 1.19 correspond to the theme.
The guards will chase the players who are wearing green clothes. The giant doll will also constantly attack players. The creature is quite dangerous because it can throw fireballs at opponents.
Doom
The mod developer added demons and changed the biomes of the game. The world will become much darker, the sky will turn red and look like Doom.
The add-on contains ten demons that will appear on the territory of Minecraft 1.19. Each of them has abilities. For example, a hunter pursues his victims.
The modification will also add a Hell Baron, Archers, and other mobs. They are all dangerous and aggressive. For example, the Arachnotron, a huge spider will be a particularly strong opponent.
There are also several latent creatures, such as a Cacodemon or an Elemental of Pain. They can attack players from the sky, so you need to constantly lookup.
The mod will add several famous bosses from Doom: the Gladiator, the Icon of Sin, and the Warriors.
The mod will change the landscape of the Minecraft PE 1.19 world. It will get hotter in the deserts. Steve's survival in these conditions will become more difficult. The snow biomes will remain the same, but monsters can also live here.
New weapons will also appear. For example, chain pistols, super shotguns, chainsaws, and blades. To get the weapons and the armor, players can use the command /give @a cc:crate_box.
Download Mod for Minecraft PE 1.19
These addons are even better: