Download Minecraft PE 1.19.20.20 Wild Update: visit a variety of biomes of the game, look for Echo Shards, and evaluate the menu changes!

Minecraft 1.19.20.20: The Wild Update
Mojang Studios updated the game again. The developers in Minecraft PE 1.19.20.20 paid attention to bug fixing and improving Bedrock Edition content.
New update will delight fans with several new items, mysterious biomes, and Spectator mode.
By the way, the authors have removed some experimental tabs from the game menu.
Biomes
Players should take a walk through the Mangrove swamps of Minecraft 1.19.20.20. The place is not only beautiful but also helps to get new materials. Mangrove wood and mud will be an excellent resource for crafters.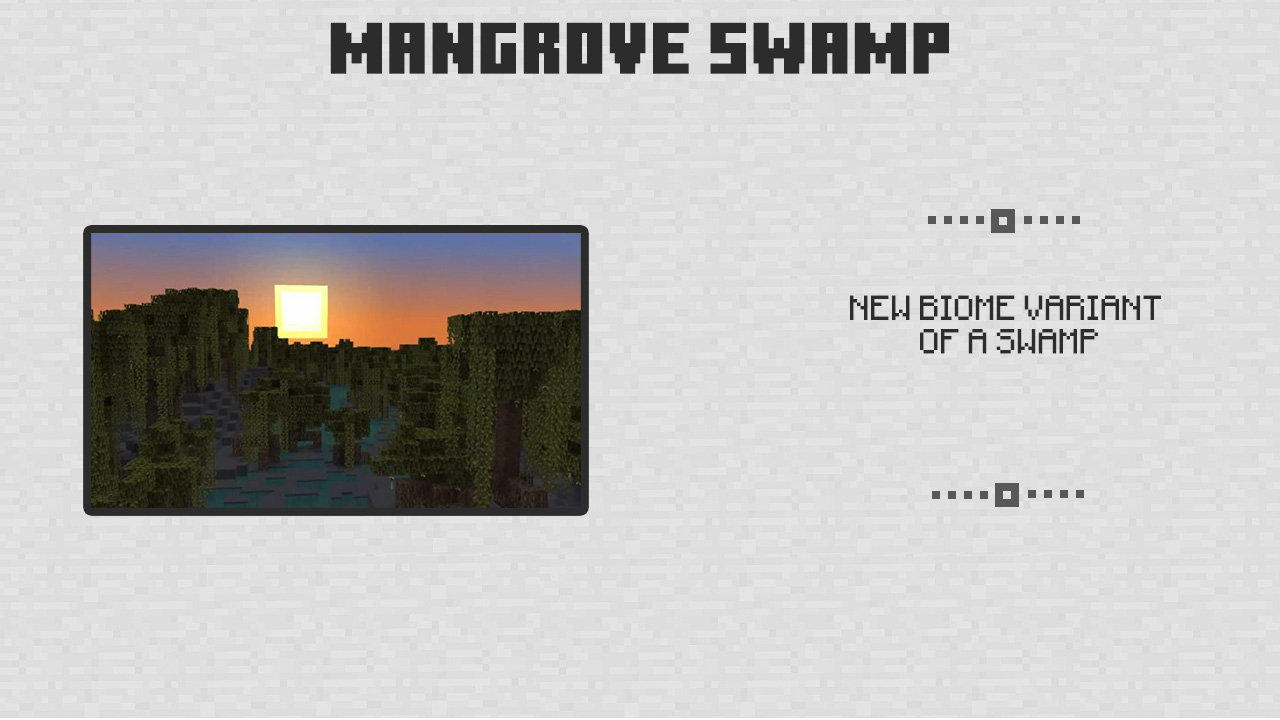 Ancient cities will be exciting for players who are looking for dangerous adventures. Here, Steve's goal will be chests filled with valuable items.
Here you can find music discs or, for example, Echo Shards. Such items in Minecraft PE 1.19.20.20 are suitable for crafting a recovery compass.
It is not safe for crafters to be in the Ancient City. Warden hides underground, waiting for potential victims. Before the attack, the creature will growl.
Creatures
Allay, being a good Minecraft 1.19.20.20 mob, can help players collect the necessary items on the territory of the game. Now you need to pause for 5 minutes between its actions.
Warden will become Steve's most dangerous enemy. The creature has a large reserve of health and can attack anyone in the game.
By the way, the guard's anger in MCPE has been accumulating for some time. If you don't move for one minute, Warden can calm down.
Spectator Mode
Players can become a spectator in Minecraft PE 1.19.20.20 using new option. You can activate it in the experimental menu. This function lets a player watch the gameplay without any communication with mobs.
Menu changes
The developers decided to remove the experimental mode tabs in Minecraft 1.19.20.20, in which there is no longer any tested content. Thus, the interface no longer contains Vanilla and Wild experiments.
Download Minecraft PE 1.19.20.20
| | |
| --- | --- |
| Name | Minecraft Bedrock |
| Version | 1.19.20.20 |
| OS | Android |
| Producer | Microsoft |
| Author | Mojang |
| License | Free |
| Xbox Live | + |
| Size | 161 МБ |
| File | DOWNLOAD |