Download Minecraft PE 1.19.10.24: visit the Mangrove swamp, become an observer in the game and evaluate the fixed bugs.
Minecraft 1.19.10.24: The Wild Update
Minecraft PE 1.19.10.24 continued the Wild Update, bringing bug fixes and improved biomes to players.
The developers provided users with a command to find the necessary biome. They also refined the effect of darkness, which now works aslo in the Nether and in the End.
Mangrove swamps
This biome in Minecraft 1.19.10.24 looks quite picturesque: trees with long branches fill the entire territory. The developers have added vegetation to get closer to the java edition.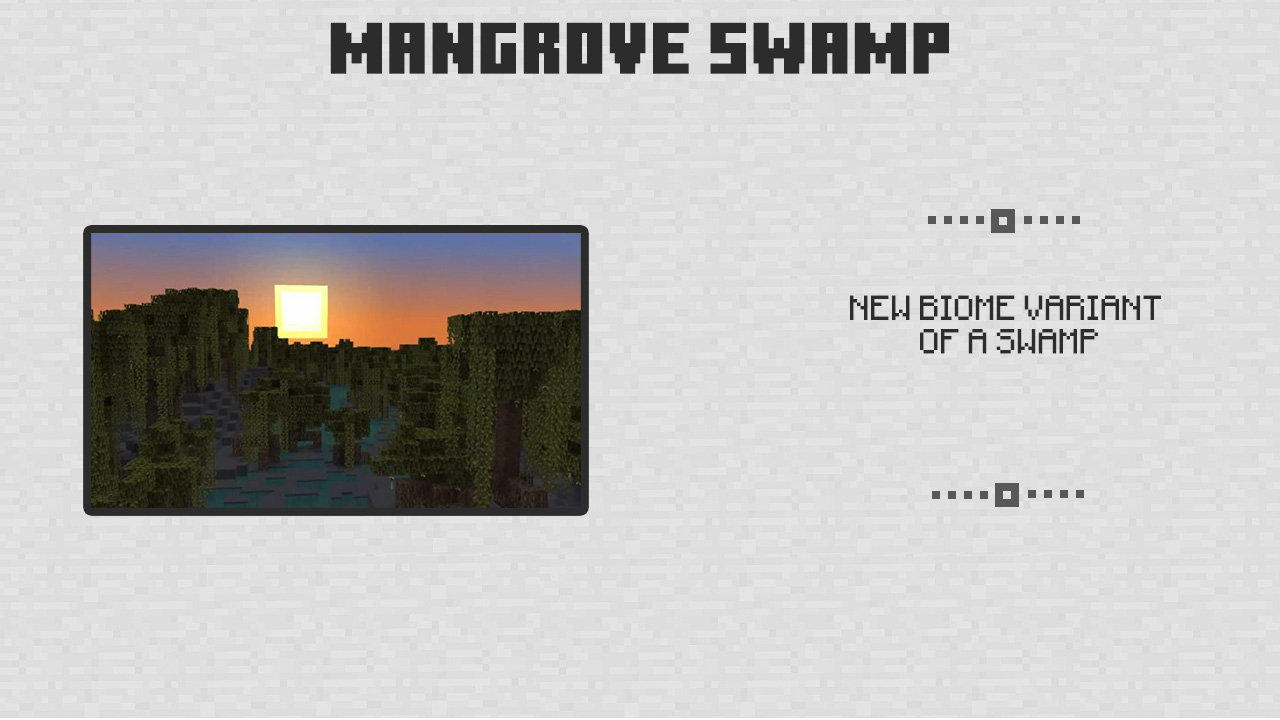 Places with growing grass have dirt under them. There is a unique sound design of mud blocks, especially while walking on them.
Ancient City
It is best to go to the Ancient City for a treasure hunt in Minecraft PE 1.19.10.24 Wild Update.
You can find music records here, as well as the echo shards. Players can craft a recovery compass from it in Bedrock Edition.
Warden
The creature guards the Deep Dark, attacking anyone who dares to visit these places of Minecraft 1.19.10.24. The developers from Mojang have given the mob an updated animation.
By the way, Warden will not have much difference from the character from the PC version.
Allay
Players who want to get a friend in the Minecraft PE 1.19.10.24 game world should meet Allay. The creature will collect the necessary items for Steve and dance amusingly near the music block. Allay got 5 minutes for cooldown instead of 2,5.
By the way, the blocks in Allay's hands can glow in the dark.
Spectator Mode
The option helps the Minecraft 1.19.10.24 player to be in the role of a spectator inside the game world. In this case, the effects will cease to affect the character, and mobs will not notice him. Steve, too, will not be able to influence the world in any way by staying in this mode.
Other changes
Minecraft PE 1.19.10.24 players can find any desired location using the / locate biome command. The developers also changed the darkness effect. It is available not only in the Overworld, but also in the Nether, and also in the End.
The developers decided to remove some of toggles from the experimental mode.
Download Minecraft PE 1.19.10.24
| | |
| --- | --- |
| Name | Minecraft Bedrock |
| Version | 1.19.10.24 |
| OS | Android |
| Producer | Microsoft |
| Author | Mojang |
| License | Free |
| Xbox Live | + |
| Size | 161 МБ |
| File | DOWNLOAD |